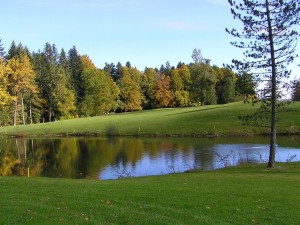 I haven't played golf since I was 18. I didn't enjoy the game but my dad was a fanatic so, if I wanted to spend time with him it was golf or nothing. I will always remember a Par 3 that turned into a disaster. Only 150 yards but with a water hazard right in front of the green and it was straight into the wind. I hit a beautiful shot straight for the pin and… blonk into the water. I walked up to the edge of the pond and threw my second ball down in disgust. To my horror it hit the hard dirt, bounced once and rolled over the edge toward the pond. Unwilling to lose a second ball I dove for it catching it just before it reached the water. Then disaster struck. I was head down on a slippery slope. I started to slide into the water, up to my knuckles, up to my wrist, up to my forearm. That's when I yelled, "Dad! Help!" Fortunately he was nearby and dragged me out by my ankles. I'm sure he always had a little chuckle thinking about that incident.
Psalm 40:2 (NIV) promises, "He lifted me out of the slimy pit, out of the mud and mire; He set my feet on a rock and gave me a firm place to stand." If you have ever experienced a slippery slope, that is a good promise to have. Ever been on a water park slide? Now there is a slippery slope! Once on you are committed. No turning back. Every one of us was on a greased pole to hell, helpless and hopeless. Then God reached forth His hand to remove our guilt placing it on Jesus, rescuing us when we could do nothing for ourselves.
Ephesians 6:10-17 (NIV) tells us, "Finally, be strong in the Lord and in his mighty power. Put on the full armor of God, so that you can take your stand against the devil's schemes. For our struggle is not against flesh and blood, but against the rulers, against the authorities, against the powers of this dark world and against the spiritual forces of evil in the heavenly realms. Therefore put on the full armor of God, so that when the day of evil comes, you may be able to stand your ground, and after you have done everything, to stand. Stand firm then, with the belt of truth buckled around your waist, with the breastplate of righteousness in place, and with your feet fitted with the readiness that comes from the gospel of peace. In addition to all this, take up the shield of faith, with which you can extinguish all the flaming arrows of the evil one. Take the helmet of salvation and the sword of the Spirit, which is the word of God."
I want to focus on verse 15: "Feet fitted with the readiness that comes from the gospel of peace." In wrestling is being on your back a good thing or a bad thing? In football what if your quarterback is on his back at the end of every play? For a Roman soldier if he was on his back he was in serious trouble. It is essential that a soldier stay on his feet. The movie 300 began the main battle with the massive Persian army pushing against the ranks of the Spartans. They had to stand against a tremendous force.
The Roman soldier had an answer for the slippery slope. The sandals of the Roman soldier had spikes in them to give good traction. His very life depended on them. Those spikes in our sandals are how we have prepared by making the Gospel a part of our soul. If I don't get it down deep on the inside, when I need it for traction it won't be there. My sandals will be slick. Does it do any good for me to carry around a pocket full of spikes? No. Just carrying around my Bible is just as useless if I am not working to make it impact the way I live. The devil wants me to fall. 1Peter 5:8 (NLT) warns, "Stay alert! Watch out for your great enemy, the devil. He prowls around like a roaring lion, looking for someone to devour." He is looking for the Christian whose sandals are slick, unable to help him stand.
A classic example of the slippery slope is in 2Samuel 11. David first decides not to lead his army when they go out to war. Maybe this was irresponsibility or neglect of duty or just laziness, but it led to lust when he saw Bathsheba bathing. The slippery slope took him into adultery, deceit when he called Uriah back to cover up Bathsheba's pregnancy, and finally murder when he ordered Uriah killed.  Jesus said that a man who looks on a woman to lust after her has already committed adultery in his heart (Matt. 5:27, 28). He knew the slippery slope that it could lead to. If we tolerate sin, soon we rationalize the behavior and compromise what we know is right.
Jesus hinted at a slippery slope in the Sermon on the Mount when He said to cut off your right hand or pluck out your eye to avoid sin (Matthew 5:29-30), and Scriptures are filled with admonitions to avoid temptation at all cost.
We may be firm in our purpose and intentions but outside influences start to exercise their impact. 2Kings 11:4 tells us Solomon's wives turned his heart. Amos 5:14a (NLT) warns, "Do what is good and run from evil — that you may live!" In Hebrews 2:1 (NIV) we further read, "We must pay the most careful attention, therefore, to what we have heard, so that we do not drift away."
In Mark 8-22-26 Jesus healed a blind man. He warns the man not to go back into the village, back into the old environment, the old influences that will suck you right back to old ways of thinking and acting. Will I choose to live by what my Papa taught me, or what Uncle Joe told me? Am I going to live by what Oprah says, or Dr. Phil, or Bart Simpson? "Oh, I may watch The Simpson's, but that's just for entertainment. I don't let it influence the way I live." If I listen to it, even if I don't consciously follow what it is saying, it is getting into my subconscious and influencing my choices. Even if I depend on what my Pastor says, all can be shaky ground, a slippery slope. I must live by the Word of God.
What examples of "slippery slope" can you think of?
"Yea, I'm having a beer, but I'll stop at one."
"I'm moving in with my girlfriend, but we have agreed that we will not have sex."
"I'm going to the bar with my friends tonight, but I won't drink."
"Sure there will be weed at the party, but I don't use anymore."
"My friends at the club like to gossip, but I just don't listen."
Watch for the but. B-U-T spells T-R-O-U-B-L-E.
I have the privilege of helping our daughter homeschool our grandkids by teaching science. Recently we were studying friction. We looked at when friction is minimized (Winter Olympics need a slippery slope for bobsled, skiing or snowboarding) and when it is important (braking, steering, even walking). To have spiritual "friction" takes preparation, getting those spikes in our sandals.
Today we're obsessed with speed, but God is more interested in strength and stability than swiftness. We want the quick fix, the shortcut but that does not produce character. One of my favorite verses is Proverbs 4:18 (NIV): "The path of the righteous is like the first gleam of dawn, shining ever brighter till the full light of day." Growth is a process.
Life is a series of seasons: seasons of preparation and seasons of trial. There is seed time and harvest time. There is a time to prepare and a time to stand. Now is the time to prepare. Those that are best prepared will stand. "Champions do not become champions when they win the event, but in the hours, weeks, months and years they spend preparing for it." – T. Alan Armstrong.
We fear change, even if our old ways are self-destructive because, like a worn out pair of shoes, they are comfortable and familiar. My recliner's worn mechanism can be rebellious; the upholstery is torn in places but I don't want to replace it. It's comfortable. I must let go of old ways in order to experience the new.
We can get very comfortable in church, but when we step out into the world, the going can be very slippery. It's easy to get complacent. "Oh, it's so nice and peaceful here. I want to stay here forever." Well, you can't. Look at the horizon. The dark clouds are gathering. A storm is coming. It's time to get ready.
Every time I memorize a Bible verse, every time I meditate on God's truth, I am adding a spike to my sandals. What are some of those verses?
I am the righteousness of God in Christ Jesus. (2Corinthians 5:21)
Nothing can separate me from the love of God. (Romans 8:39)
I can do all things through Christ who strengthens me. (Philippians 4:13)
There is therefore now no condemnation because I am in Christ. (Romans 8:1)
I am a new creation; the old things have passed away. (2Corinthians 5:17)
This one thing I do, forgetting what is behind and looking to what is ahead I press toward the upward call of God in Christ Jesus. (Philippians 3:13-14)
I want us all to become cobblers, shoe makers. I can't make sandals for you. We can't go to the store and gat a pair of "made in China" spiritual sandals. Every morning when I put on my shoes I want to ask, "Are my feet shod with the Gospel?" At night when I take off my shoes off I want to ask, "Did I add a spike to my sandals today?"