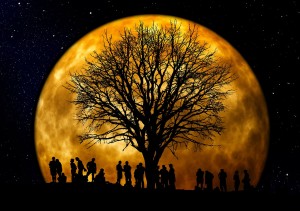 We have seen it on the hospital dramas: "He's going into cardiac arrest! Give me the paddles. Clear!" Zap. Beep…beep…beep. "He's back." We were all dead in sin: drug dealers, pimps, sex offenders, gossips, unforgiving or prideful. All equally dead. Just another cold corpse in the spiritual morgue that stretches for miles. But God… I call it the divine hinge on which everything turns. Here comes the power. We were flat lined spiritually and He put the paddles to our chest, "Clear!" and gave us a good zap. Beep…beep…beep.  God didn't just bring us back to life. That would ultimately lead to death again. Jesus raised Lazarus but what eventually happened to him? He died. When God made us alive He went a step further and seated us in heaven in Christ so that sin and death have no more power over us.
Let's read together Ephesians 2:1-10 NKJV: "And you He made alive, who were dead in trespasses and sins, in which you once walked according to the course of this world, according to the prince of the power of the air, the spirit who now works in the sons of disobedience, among whom also we all once conducted ourselves in the lusts of our flesh, fulfilling the desires of the flesh and of the mind, and were by nature children of wrath, just as the others. But God, who is rich in mercy, because of His great love with which He loved us, even when we were dead in trespasses, made us alive together with Christ (by grace you have been saved), and raised us up together, and made us sit together in the heavenly places in Christ Jesus, that in the ages to come He might show the exceeding riches of His grace in His kindness toward us in Christ Jesus. For by grace you have been saved through faith, and that not of yourselves; it is the gift of God, not of works, lest anyone should boast. For we are His workmanship, created in Christ Jesus for good works, which God prepared beforehand that we should walk in them." We were dead in our sin, helpless and hopeless, but God… But God…
Zombies are a popular subject today in movies and television. If we could look into the spiritual world around us, what would we see? There are a lot of spiritual zombies walking around today; they just don't know they're dead. A person doesn't sin and then die spiritually. He is born dead and so sin is just the natural outcome. Romans 3:20 in the Phillips translation puts it this way, "No man can justify himself before God by a perfect performance of the Law's demands – indeed it is the straightedge of the Law that shows us how crooked we are." The do's and don'ts of the Bible aren't there to make us better but so we can see our sin clearly. We chose sin, we chose the world, we chose death. But God, despite that, chose us.
Why would God do such a thing? Because of His great love. I may see God as cold or stern or angry. That could be based on what I learned in Sunday School or from equating God with an angry, earthly father. God IS love. It is not that God is showing love, not that God is loving. His very nature is summed up in one word: love. Rick Warren, author of Purpose Driven Life: "God didn't choose you because of something you've done. It's all because of who He is. You weren't good enough, smart enough, or spiritual enough for Him to save you. He saved you because He loves you."
Look at surveys and we will see that most people believe God exists. That doesn't make them spiritually alive. James 2:19 (NLT) warns, "You say you have faith, for you believe that there is one God. Good for you! Even the demons believe this, and they tremble in terror." I know a lot of people who do good things but they are still spiritually dead. Many religions, some that even call themselves Christian, place their focus on good deeds rather and the redemption that is ours through the cross. We can dress a zombie up in a nice suit, comb his hair just right but he is still a zombie.
Israel was in a drought and God directed the prophet Elijah to a certain brook. As he stayed there he watched the brook dwindle and finally dry up. (1Kings 17:7) But even then God continued to provide for him miraculously. We can spend our lives worrying about our various predicaments. When we are down here facing the daily battles, mucking our way through the trenches of daily life, it is easy to forget that we are seated in heavenly places. I only have a limited amount of energy. That's why I get tired and worn out. As a result, I need to not waste any of that limited energy on the past. Every day, I want to choose to focus my energy on what is in front of me and what lies ahead. (Philippians 3:13-14)
Before I was born again, I was a good person. I considered myself a Christian. I just kind of did things my own way, mixing in a little Bible truth with worldly wisdom and my own motivations. I went to church most Sundays, but God was someone I went to when I was in trouble, when I was hurting, when I had a need. I treated Him like a vending machine: put in a few prayers and out pops His favor. When the crisis was over I took the attitude, "Thanks God. I'll take it from here." The rest of the time I gave Him very little thought. Then one night I attended an Easter service that included a reenactment of the crucifixion. As I looked on a bloodied and beaten Jesus, I realized I only wanted God on my terms. Now He was calling me to surrender. I took that step and now live a life that has been changed by the redeeming power of the cross. This life goes beyond forgiveness of sin. It brings empowerment by the Holy Spirit. It brings focus to living.
Once I was dead spiritually; now my heart, mind and spirit are set free. Once my life was hopeless; now I have hope and security in God. Once my life was empty and void; now I can enter into the joy of the Lord.
All that we have, all that we are, all that God has done for and in and through us is IN CHRIST. What the devil wants to do is to get me to focus on my condition instead of my position in Christ. I am an heir of God and a joint heir with Christ. (Romans 8:17) Once I focus on my position in Christ, it gives me the power to change my condition and circumstances.
The Israelites spent 400 years as slaves in Egypt. They walked away from the Red Sea but they didn't walk away from the slave mentality. Just like the Israelites' enemies and their accusations were drowned in the Red Sea, the shaming, condemning words of my past life of slavery to sin have been silenced in the death and resurrection of Christ.
"And may you have the power to understand, as all God's people should, how wide, how long, how high, and how deep his love is. May you experience the love of Christ, though it is too great to understand fully. Then you will be made complete with all the fullness of life and power that comes from God." (Ephesians 3:18-19 NLT) All this wide and long and high and deep made my head spin until I read what Mark Driscoll, Mars Hill Church, Seattle wrote, "Paul wanted the love of God, like a plant rooted deeply in nourishment and able to flourish, to be a deep root in people's souls. He wanted the church to know that God's love is wide enough to welcome anyone, long enough to stretch from the beginning to the end of time, deep enough to reach down to the worst of sinners, and high enough to transport us to God's heavenly kingdom."
God commanded the Israelites to march around Jericho every day for seven days. In the natural that seemed like a really dumb plan. Why did God require that? Could it be so the people saw how hopeless their situation was without God? "But we have this treasure in jars of clay to show that this all-surpassing power is from God and not from us." (2Corinthians 4:7 NIV) When we are poor in spirit, we will recognize our need for God and we will have hands open to heaven.
In Matthew 19:16-22 NKJV, a young man approached Jesus and asked, "What good thing shall I do that I may have eternal life?" Notice that he was looking for good works to save him. Jesus called him to break from the world's standard regarding money. "Sell what you have and give to the poor, and you will have treasure in heaven; and come, follow Me." The young man turned away. He kept his money, he kept his pride…and he kept his emptiness. We have traveled to Europe, Israel, Turkey, Mexico, Columbia, the Caribbean and Central American. Money can buy a passport to anywhere…but heaven.
"Hey, I just want to do what I want to do!" But in truth we are doing what the world dictates. We chase after cars and houses and fame and acceptance. The world says, "Have it your way. Go for the gusto." And in the end it is empty, spiritually dead, the path of the zombie.
The zombie is defined by the defeat and regret of past mistakes, but God… He can set our feet on the new path. "They will rebuild the ancient ruins and restore the places long devastated; they will renew the ruined cities that have been devastated for generations." (Isaiah 61:1-4 NIV) Many come from families which have experienced division and devastation for generations. God breaks that curse and brings restoration. Because of Christ I am at peace with God. (Romans 5:1) I am a new creation in Christ (2Corinthinas 5:17). He has called me out of darkness into His marvelous light (1Peter 2:9). I am His workmanship (Ephesians 2:10). I am to be living advertisement for the blessing and power of God.
Faith is not complicated. It is simply believing. I show faith when I pop open a can of Pepsi and drink it down. I believe there is nothing harmful in there. I show faith when I drive over a bridge. I believe I will reach the other side safely. Salvation doesn't come by baptism or by church attendance or even living a good life. Salvation comes when the light bulb of faith turns on and I say, "I believe. I recognize I am a sinner in need of a Savior. I accept that Jesus shed His blood and died to pay for my sins. I acknowledge He rose again and gave me new life."
Jacob Marley in Dickens' Christmas Carol wore a chain he had forged link by link through his deeds and choices. I carried the chains of my past choices and sin but Jesus removed the locks. Will I continue to carry them?
John Newton was involved in the slave trade in the mid-1700's, until he recognized that apart from faith in Christ he had "no hope and [was] without God in the world" (Ephesians 2:12 NKJV). But God… That was when Newton penned the famous words, "Amazing grace, how sweet the sound that saved a wretch like me. I once was lost but now am found, was blind but now I see." Today I invite you to reflect on those words and, as you do, shake off the chains of the past and walk into freedom.