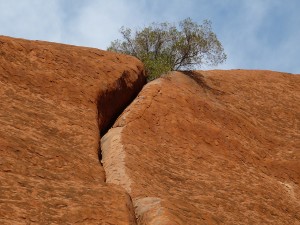 A few years ago we lived in a home where on occasion we would step into the basement family room and feel the squish, squish of water in the carpet. We eventually correlated the problem to times of heavy rain or overwatering the front lawn. In other words, there was a crack in the foundation. We chose to ignore the problem for some time but eventually we had to go to the expense of excavating the foundation, sealing the leak and installing drainage piping to pull the water away from the foundation.
It is so important that we be careful of the foundation upon which we build our lives. Build on the wrong values and we are headed for disaster. The only foundation that will never crack or weaken is Jesus Christ. He is our unchanging God. Hebrews 13:8 promises He is "the same yesterday, today and forever." I can build my life and my eternal destiny on a foundation that is unshakable and unmovable.
There are times when we feel our foundation beginning to crumble; we know we are on shaky ground. If you have ever experienced an earthquake, it is an unnerving experience. Living in California we experienced a few. The earth that we always think of as stable and unmovable is suddenly rolling and lurching like a ship on the ocean. Pastor Casey Treat of Christian Faith Center in Seattle, Washington says, "If you are ever in an earthquake, stand on your Bible. It is the only thing that is unshakeable." No other foundation will stand the storms of life. The foundation of Jesus will stand forever. Jesus is our only firm foundation.
1Corinthians 3:11-15 (NKJV) warns, "For no other foundation can anyone lay than that which is laid, which is Jesus Christ. Now if anyone builds on this foundation with gold, silver, precious stones, wood, hay, straw, each one's work will become clear; for the Day will declare it, because it will be revealed by fire; and the fire will test each one's work, of what sort it is. If anyone's work which he has built on it endures, he will receive a reward. If anyone's work is burned, he will suffer loss; but he himself will be saved, yet so as through fire." Each option that Paul describes becomes less and less stable, less and less durable. Allow me to offer my thoughts on these building materials.
Straw – I suggest this describes those that say they are Christian but don't live by Christian values. They try to find their identity in job or possessions, living for what feels good.
Hay – We seek salvation based on works. We hope to earn our way to heaven because we have lost sight of God's grace. We set our own agenda, and we no longer listen for the voice of the Holy Spirit trying to speak to us.
Wood – We begin to compromise and make excuses. "I'm not as bad as so-and-so." We have lost focus.
Precious stones – Here our foundation is no longer "in Christ" but in the trappings of the Christian lifestyle: going to church, wearing a cross, saying "Praise the Lord", listening to Christian music. We might even pray when we're in trouble but it is no longer a close personal relationship.
Silver – This is where we put our trust in past experience, not a vibrant, living relationship. We have ceased to grow and aggressively pursue God.
Gold – At this level we are building with the best. This can be many things. Among them are undivided worship, fervent prayer, consistent Bible meditation, selfless service and unconditional submission.
This reminds me of the story of The Three Little Pigs. Straw and wood could not stand up to the wolf (a picture of the devil). Only brick had the durability. When we rely more on our works to get to heaven than on the grace of God, we have a crack in our foundation. As a Christian gets farther from the Lord as the center of their life, the more they will look for other things to act as the foundation.
A crack in our spiritual foundation can take many forms:
Thinking – I am trying to justify my wrong choices. I look for my identity in the values of the world.
Character – I am falling down in areas of integrity and compassion. I am compromising what I know is right.
Focus – I have moved away from the call on my life, allowing distraction to get my eyes off of moving closer to God.
Faith – I lose vision and hope. I spend less and less time in my Bible because it just seems to highlight my failures.
And on and on…
If I have a crack in my spiritual foundation, I don't want to stuff it full of straw. I don't want to use it as a setting for precious stones. I don't even want to gold plate it. I want to get the right foundation that is going to hold up through the storms of life. Psalm 40:2 (NKJV) says, "He brought me up also out of a horrible pit, out of the miry clay. He set my feet on a rock, and gave me a firm place to stand."
If I ignore the crack, my life will become a ruinous heap. My life will return to chaos without my constant oversight, just like darkness returns when light is diminished. Isaiah 60:1 "Arise, shine; For your light has come! And the glory of the Lord is risen upon you." I am called to be a light in a dark world, a crack repairer in a cracked world. How will I repair the crack? How about with love, joy, peace, patience, kindness, goodness, faithfulness, gentleness and self-control, in other words the fruit of the Spirit (Galatians 5:22-23)?
Thank God, I can build my life and my eternal destiny upon a foundation that is unshakable and unmovable. If I build on Jesus Christ as the absolute focus of my life, then I can rest assured that I will not fall. The Holy Spirit is helping me to build upon the foundation of Jesus Christ one spiritual lesson at a time. Jesus is the cornerstone. 1Peter 2:5a (NLT) says, "And now God is building you, as living stones, into His spiritual temple."
I want to accomplish the vision God has for me. The vision of the world for my life is to find fulfillment in a job and in stuff. The vision of the devil for my life is defeat, despair and hopelessness. The vision of God for my life is victory, joy and an eternity with Him. To get there I must keep my eye on the prize, the upward call of God in Christ Jesus (Philippians 3:13-14)
Past present and future are all "now" to an eternal God. He will reach into the past to heal the abuse, to heal the abandonment or rejection. When I think of eternity I think of endless days and endless years forever. That's wrong. Eternity is not endless time. Eternity is where time has no meaning. In eternity there is no future, no past, only now. How can God promise me heaven in my future? Because He is eternal. How can God heal the hurt of my past? Because He is eternal.
The Everlasting God is supreme over the future and the past. By Jesus' substitutionary sacrifice 2000 years ago, we were bought back, redeemed from slavery to sin, slavery to the kingdom of darkness. Medicines have expiration dates; medical isotopes have half-lives; milk will sour if kept too long. The Blood of Jesus never loses its power.
The cracks don't happen quickly. They develop slowly, almost imperceptibly. It happens with the choice of compromise: "I forgive everyone who has hurt me except…", "I surrender every area of my life to God but…"
Matthew 7:24-27 (NIV) warns, "Therefore, everyone who hears what I say and obeys it will be like a wise person who built a house on rock. Rain poured, and floods came. Winds blew and beat against that house. But it did not collapse, because its foundation was on rock. "Everyone who hears what I say but doesn't obey it will be like a foolish person who built a house on sand. Rain poured, and floods came. Winds blew and struck that house. It collapsed, and the result was a total disaster." Jesus wasn't concerned about thunderstorms or flash floods. He was asking how we would stand against financial crisis, legal problems, broken relationships or death of a loved one. Before the storm came, both houses looked identical. It is the storm that reveals the foundation. It's easier to build on the sand; digging to the rock takes extra effort. It's easier to just show up at church for an hour a week than to develop deep spiritual roots. Everybody sounds like a believer when times are good. True faith is shown when we must trust Him in the dark, when the storm clouds hang heavy over our lives.
In 1Samuel 17:40, we are told before David confronted Goliath he took up his staff. Now I thought that a little odd since he didn't use his staff in the fight, but recently it was explained to me that in that time they would carve pictures into their staff to depict past victories perhaps like an Old West gunslinger would put notches on his gun to show his kills. On that staff was David's reminder of the lion and the bear he had defeated. He had a strong foundation. The staff wasn't used in the battle but he needed to take his history of past victories into the battle. Don't have a Godly history? God would say to you, "Start building tomorrow's history today."
The people of Jesus' time would be familiar with the slave markets, the hopelessness and despair. Some of His listeners were likely slaves themselves. Today if you are a slave of anger – God says, "Redeemed!" Slave of bitterness – God says, "Redeemed!" Slave of alcohol – God says, "Redeemed!" Slave of drugs – God says, "Redeemed!" Slave of porn – God says, "Redeemed!" Slave of fear – God says, "Redeemed!" Slave of rejection – God says, "Redeemed!" When the devil comes against us with his lies and deception, we can declare boldly, "My foundation is secure. I am redeemed!"