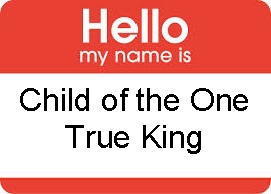 2Corinthians 10:4-5 (NKJV) tells us, "For the weapons of our warfare are not carnal but mighty in God for pulling down strongholds, casting down arguments and every high thing that exalts itself against the knowledge of God, bringing every thought into captivity to the obedience of Christ." "For the weapons of our warfare are not carnal." Our Spanish-speaking brothers will pick up on that right away. Carnal means fleshly, e.g. chili con carne – beans with meat. Many translation say "are not of the world." In other words we are not fighting a physical battle but a spiritual one. It is a battle in our thoughts, a battle for our mind. 
The devil is like a computer hacker trying to plant a virus in our mind. He is looking for the right password to gain access. What is the password for you? Sex, party, meth, pride, stuff? 1Peter 1:17 commands us to gird up the loins of our mind. In Biblical times, men wore long robes and when they entered battle, they would tie them up so they would not interfere with movement. Left alone, our mind will be going in all directions, all kinds of thoughts. We need to gird our mind to keep it on the right path. We take every thought captive to the obedience of Christ. It's called focus. 
In our western culture today little emphasis is given to the meaning of a name give a child. My name is Gill, the organ fish use to breath under water. What's with that?! In Biblical times a name was considered a predictor of character and destiny: Samuel (Heard by God when God answered Hannah's prayer for a child.), Elijah (My God is Yahweh.), and Jesus (The Lord is Salvation.). 
Many times names were changed in the Bible showing a new destiny.
Abram (Noble Father) becomes Abraham (Father of Many Nations)
Sarai (Princess) becomes Sarah (Mother of Nations)
Jacob (Deceiver/supplanter) became Israel (Prince of God)
Simon (Like a reed) became Peter (The Rock) perhaps as a reminder of the strength he would need to lead the early church and that we are all stones in the new temple.

 
Perhaps God wanted people to rise to new heights of effectiveness as a result of such name changes. For us today, our name – that of "Christians" – means "to be like Christ." We are called to live like Christ, to demonstrate His love, grace, peace, joy and forgiveness to a world that has lost its way and has no vision of its destiny. 
Who am I? Some would describe themselves as, "I am a failure.", "I am a mistake.", "I am an addict." or "I am rejected." Maybe the devil is more subtle and has convinced us, "I am a carpenter/ nurse/ engineer/ homemaker." But that is not where my value lies. Matthew West recently released a very powerful song entitled, "Hello My Name Is." Here are the first few verses: 
Hello, my name is regret 
I'm pretty sure we have met
Every single day of your life
I'm the whisper inside that won't let you forget
Hello, my name is defeat
I know you recognize me
Just when you think you can win
I'll drag you right back down again
Till you've lost all belief
These are the voices, these are the lies
And I have believed them for the very last time
Hello, my is my name is child of the One True King
I've been saved, I've been changed
I have been set free
Amazing Grace is the song I sing
Hello, my name is child of the One True King
I am no longer defined
By all the wreckage behind
The one who makes all things new
Has proven it's true
Just take a look at my life
Hello, my name is child of the One True King
I've been saved, I've been changed
I have been set free
Amazing Grace is the song I sing
Hello, my name is child of the One True King 
In Isaiah 14:12-17, we learn that the devil's downfall was his pride, his desire to be equal to God, a "high thing that exalted itself against the knowledge of God". Let's not let the same thing happen to us. We combat it by knowing who we are in Christ: 
I am loved

. Romans 8:14 I am a son of God. Colossians 1:13-14 I am rescued from Satan's kingdom. Romans 8:35-39 Now nothing can separate me from God's love.

 
I am forgiven

. Romans 5:1 I have been justified and have peace with God. Romans 8:1 I am free of condemnation in Christ. Ephesians 4:32 In Christ God has forgiven me.

 
I am valuable

. Romans 8:17 I am an heir of God and a joint-heir with Christ. 1Corinthians 3:16 I am the temple of God. Ephesians 2:10 I am His handiwork. 

 
I am victorious

. Romans 8:37 I am more than a conqueror. 1John 5:4-5 In Christ I have overcome the world. Philippians 4:13 I can do all things through Christ who strengthens me. John 8:32 I know the truth and the truth makes me free.

 
I am complete

. 2Corinthians 5:17 I am a new creation in Christ. The old things have passed away. All things have become new. Ephesians 1:3 I am blessed with every spiritual blessing in Christ. 2Corinthians 5:21 In Christ I have the righteousness of God.

I am chosen

. 2Timothy 1:9 I have a holy calling. 2Corinthians 5:18-19 I am a minister of reconciliation between God and those I contact. 1Peter 2:9 I am a member of a royal priesthood, a holy nation, a people for God's own possession.
Jesus knew who He was. He declared, "I am the bread of life." (John 6:35) "I am the light of the world." (John 8:12) "I am the good shepherd." (John 10:11) "I am the way, and the truth, and the life." (John 14:6) He walked this earth with a confidence and strength that come from that knowledge. We can have the same confidence when we have learned what the Bible tells us of who we are and we walk in it. The Message Bible puts it this way, "The tools of our trade aren't for marketing or manipulation, but they are for demolishing that entire massively corrupt culture. We use our powerful God-tools for smashing warped philosophies, tearing down barriers erected against the truth of God, fitting every loose thought and emotion and impulse into the structure of life shaped by Christ." (2Corinthians 10:4-5)
In Revelations 2:17, Jesus promises each of us a white stone with a name change, a new destiny. What name is on your stone? Redeemed. New Creation. Forgiven. In Christ. Child of the One True King.