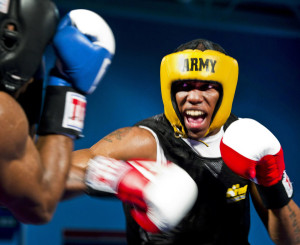 In 1976, a low budget film starring an unknown actor was released that immediately became a classic winning 3 Academy Awards: Rocky. We experienced the exhilaration of his dancing at the top of the steps at the Philadelphia Museum of Art. We experienced his pain in the grueling training. We experienced the satisfaction of a goal met. We felt his pain and his joy because he was no superhero. He was just one of us.
There are a lot of life lessons I learned from Rocky:
#1 Don't let the world define what success looks like
What does winning look like? In boxing, you'd think winning means knocking out your opponent. For Rocky, in his first movie, it was about "going the distance", which meant lasting all 15 rounds with Apollo Creed, the world champion. Winning shouldn't be what others define it to be, it's a goal I set for myself. As a Christian my fulfilling God's purpose for my life marks success.
There will always be people around telling me what constitutes success. The world says success lies in what I have accomplished and what I have accumulated. If I buy into their standards, those same people will be happy to inform me when I've failed.
The Bible tells of a young man who was his father's favorite. Jealous brothers sold him into slavery. Falsely accused of rape, he spent years in prison. Through the trials, rejection and suffering, he remained faithful to God. His name was Joseph. Was he a success? His actions saved his family, the very ones who had betrayed him. In Genesis 50:20 (NLT), Joseph told his brothers, "You intended to harm me, but God intended it all for good. He brought me to this position so I could save the lives of many people." He fulfilled God's purpose for him.
Another man served as God's prophet for 40 years. He was rejected by his neighbors and family. He suffered deprivation and imprisonment, but he remained faithful and courageous in proclaiming God's word. His name was Jeremiah. Was he a success? As one of the major authors of the Old Testament that we still read today, he fulfilled God's purpose for him.
Finally we can read about a man who had little in material possession. He was rejected and hated. His family thought he was crazy, religious leaders ridiculed him and his closest friends deserted him. Finally, he was tortured and killed. His name was Jesus. Was he a success? In God's eyes, the redemption of all mankind was accomplished that day on Calvary. Philippians 2:7-11 (NKJV) says, "(He) made Himself of no reputation, taking the form of a bondservant, and coming in the likeness of men.  And being found in appearance as a man, He humbled Himself and became obedient to the point of death, even the death of the cross. Therefore God also has highly exalted Him and given Him the name which is above every name, that at the name of Jesus every knee should bow, of those in heaven, and of those on earth, and of those under the earth, and that every tongue should confess that Jesus Christ is Lord, to the glory of God the Father." Jesus too fulfilled God's purpose for Him.
There will always be adverse forces trying to thwart our goals. There will be contrary winds. The world pushes in on us. The Phillips translation of Rom 12:2 warns us that the world will try to "squeeze you into its own mold." The world considers power, prestige and prosperity to be the highest goals, but when my security and value rests on my own wisdom and performance, success has become an idol. 1John 2:15 (NIV) warns, "Do not love the world or anything in the world. If anyone loves the world, love for the Father is not in them." Stephen Covey said, "The main thing is to keep the main thing the main thing."
Proverbs 21:21 (NLT) declares, "Whoever pursues righteousness and unfailing love will find life, righteousness, and honor." What is your definition of success? Mine is fulfilling God's purpose for my life.
#2 Believe in myself
Rocky was just another run of the mill boxer, a bum in his words. The only thing that got him a shot at the title was his nickname, "The Italian Stallion". As long as he saw himself as a bum, he would stay there. The story of Rocky is the odyssey of change as he begins to believe in himself.
In the hard times we need an anchor that grips on solid rock. We once chartered a small boat with two other couples. The skipper put down the anchor when we stopped to snorkel but when we went to leave, the anchor was hung up on a rock and no amount of pulling would free it. Finally he had to dive down to free it. As Christians we are anchored to the rock of Jesus Christ. The strength of that anchor enables us to believe in God and believe in ourselves.
As I minister weekly in the county jail, the men I encounter believe in God but many don't believe in themselves. We have been made new creations, but religion and tradition develops a mindset of unworthiness and failure. As long as we are trapped in sin consciousness we cannot live in the revelation of our identity in Christ. If I truly believe in God then I should believe what His Word says about me, that I am loved, forgiven, chosen and victorious. I am the righteousness of God in Christ. God has so much confidence in me that he made me His ambassador.
The devil goes about like a roaring lion trying to stir up fear in people with his roars (1Peter 5:8). But the people who are not devourable are those who refuse to be intimidated by his roars because they know the true Lion of Judah, Jesus Christ (Revelation 5:5), has already come and rendered powerless him who had the power of death. (Hebrews 2:14)
Many churches use a declaration: "I am who God says I am. I can do what God says I can do. I have what God says I have." That is a declaration of "Christ in me" and it strengthens my belief in myself.
Next time we will look at other life lessons further.