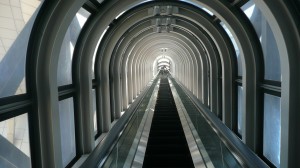 I recently saw a video used in police officer training. In it the officer was directing a suspect to put down the rifle he had in his left hand. The suspect was compliant but the officer was so fixated on the rifle that he didn't see the suspect reach with his right hand for the handgun that was in the small of his back. It is called tunnel vision as the field of vision narrows and the individual is blinded to all distractions and other threats.
Tunnel vision is what a wide receiver has, not thinking about crowd noise only the football as it spirals toward him. Or the batter as he concentrates on the baseball hurling toward the plate. Even the Anheiser Bush Clydesdales wear blinders to block out distractions.
In 1994, Tom Amberly set a world record by making 2,750 free throws in a row. Some important facts about this record are:
He was not a professional basketball player, he was a foot doctor.
He was 71 at the time.
He did not miss number 2,751. The building manager shut off the lights and closed the gym.
According to Amberly, "The only thing limiting you is yourself….we are more limited by our beliefs than our ability."
Tunnel vision on the right things can be good, on the wrong things it is a disaster, because what I focus on gets bigger in my life. A man is so focused on getting ahead in his career that he neglects his family. A mother is devoted to her children at the expense of her relationship with her husband. A teenager emphasizes sports and lets the grades slip. We get so busy with the cares of life that we lose sight of what is of eternal value. Matthew 6:33 (NKJV) tells us, "But seek first the kingdom of God and His righteousness, and all these things shall be added to you."
Samson (Judges 13-16) could have been one of the greatest leaders of Jewish history, but his focus was in the wrong place. He allowed the anointing of testosterone to overpower the anointing of the Holy Spirit. A man who could not be defeated from without was trapped by what was within.
Naomi (Ruth 1) returned to Israel after the death of her husband and sons and said God has dealt bitterly with me. She lost sight of the bigger picture that led to Obed, Jessie and David, the beginning of the generational line that would lead to Jesus. Tunnel vision gets us to focus on the pain and disappointment of today.
In Matthew 19:16-22, Jesus is approached by a young man who asks, "What must I do to have eternal life?" "Obey the commandments." "I've done that all my life." Jesus then hits at the heart issue for the young man, "One thing you lack. Sell what you have, give it to the poor so you will have treasure in heaven then come, follow Me." The young man couldn't do it. His focus was on possessions, not on following Jesus.
Matthew 13:22 warns that the thorns of power, fame or wealth will choke out the seed if we don't have the right focus. Life is a race to be run. An athlete is focused on the finish line. In Paul's day, the prize was a crown of olive branches, a perishable crown that soon wilted. Our prize is eternal life. We must live life with a sense of urgency. That requires ignoring the distractions of the world.
In Luke 10, Martha complains to Jesus because she is doing all the work and Mary had tunnel vision on Jesus. His reply in verse 42 (NKJV, emphasis added) is, "But one thing is needed, and Mary has chosen that good part, which will not be taken away from her."
The Garden of Eden was beautiful with all of the trees and all of the animals. God would walk with Adam and Eve in the cool of the evening. But Eve focused on only one tree and therefore lost sight of God's plan.
Peter walked on water as long as he had tunnel vision on Jesus, but as soon as he allowed the wind and waves to distract him and took his eyes of Jesus, he went down. (Matthew 14:39)
In Psalm 27:4 (NKJV, emphasis added) King David declared, "One thing I have desired of the Lord, that will I seek: That I may dwell in the house of the Lord all the days of my life, to behold the beauty of the Lord, and to inquire in His temple." Tunnel vision.
In Luke 9:51 we read that Jesus set his face toward Jerusalem and the cross. He knew his purpose; He knew His Father's plan and He would keep His focus on fulfilling that despite the suffering and shame involved. Hebrews 12:1-2 (NIV) tells us, "Therefore, since we are surrounded by such a great cloud of witnesses, let us throw off everything that hinders and the sin that so easily entangles. And let us run with perseverance the race marked out for us, fixing our eyes on Jesus, the pioneer and perfecter of faith. For the joy set before him he endured the cross, scorning its shame, and sat down at the right hand of the throne of God."
We can read Paul's take on tunnel vision in Philippians 3:13-14 (NKJV, emphasis added), "Brethren, I do not count myself to have apprehended; but one thing I do, forgetting those things which are behind and reaching forward to those things which are ahead,  I press toward the goal for the prize of the upward call of God in Christ Jesus."
"I do not count myself to have apprehended"
Picture a police office in pursuit of a suspect running down the street. "Officer Jones, what is your status?" "I have not yet apprehended, but I am in pursuit."
Paul was a Jew of Jews, a teacher of teachers yet he counted all that as rubbish. He was imprisoned, whipped, stoned, shipwrecked, in danger of death throughout his travels. He had given it all yet he says "I do not count myself to have apprehended." Paul spent much of his life in prison, but he did not sit there feeling sorry for himself or thinking about what he would do when he got out. Much of the New Testament was written while he was in prison.
How often do we get wrapped up in the "little" picture: a focus on today, how we feel, the present circumstances and forget tomorrow's hopes.
"One thing I do"
Not 10 rules, not 5 steps, not 3 points, one thing. God keeps it simple: one thing. Tunnel vision. Another word is intensity. There was a time we were intense in pursuit of the devil's plan for our lives. Are we now just going to be bench warmers? Someone does not become a winning athlete by listening to lectures or reading books or cheering from the sidelines. We must get in the game.
Paul did not say, "One thing I will do…" or "One thing I'm going to do…" He was living and acting in the present. What is the busiest day in the world? It's not Christmas. It's not Super Bowl Sunday. It's not even Black Friday. It's tomorrow! Tomorrow I'll start that diet. Tomorrow I'll put in that job application. Tomorrow I'll start that Bible reading plan. Tomorrow I'll really get my act together! Tomorrow, tomorrow.
"Forgetting those things which are behind"
There are times when I just want to feel sorry for myself. Sometimes I want to have a nice little pity party, sing a little "Somebody Done Somebody Wrong Song" and just pout. Joseph in the Old Testament was sold into slavery and then spent years in prison. He could have been bitter but instead he told his brothers, "You intended to harm me, but God intended it all for good." (Genesis 50:20a NLT)
Is it easy to "forget the things behind"? Of course not, but if I wallow in the sorrows of the past, I hinder my outlook on the future. Paul could have walked around all his life with a tremendous burden of guilt for his persecution of the church, but instead he used it to motivate himself to press forward.
"Reaching forward to those things which are ahead"
I don't want to stay the same. I refuse to become satisfied or complacent. "If only for this life we have hope in Christ, we are of all people most to be pitied." (1Corinthians 15:19 NIV) Joy does not come from external circumstances; it comes from the assurance of what I have in Christ and who I am in Christ.
"I press toward the goal"
When our son Paul was in grade school, he was active in competitive swimming. He was pretty good at it but he had one fault: when he was ahead he would look to the right or look to the left to see who was there and as a result lose time. We can't be worried about what somebody else is doing. Like an athlete in the 100 yard dash, I don't have time to look around comparing myself to others. I need to keep my eyes fixed on the finish line.
"For the prize of the upward call of God in Christ Jesus."
This is a call to a higher way of living. I cannot stay the same. I cannot become satisfied or complacent. "Since you have been raised to new life with Christ, set your sights on the realities of heaven, where Christ sits in the place of honor at God's right hand. Think about the things of heaven, not the things of earth." (Colossians 3:1-2 NLT) The things that sidetrack me now are trivial compared to eternity.
Press toward the goal:
"I just don't feel it." – Faith is not about feelings; it's about choice. Press!
"I don't think I can do it." – With God all things are possible. (Mark 10:27) Press!
"I've failed so many times." – His mercies are new every morning. (Lamentations 3:23) Press!
"The devil has such a grip on my life." – Greater is He who is in me than he who is in the world. (1John 4:4) Press!
Finally I ask that we reflect on the old hymn:
"Turn your eyes upon Jesus,
Look full into His wonderful face,
And the things of earth will grow strangely dim
In the light of His glory and grace."
Intensity in our calling. Tunnel vision on Jesus.