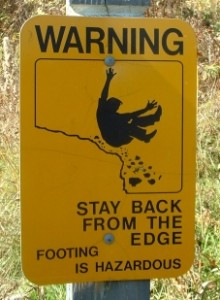 Did you realize that all advertising is temptation? In our Bible publishing business, our focus is to tempt our customers to buy our products. Car companies don't want you to see a block of steel, plastic and glass; they focus on prestige and power and peer acceptance. Beer commercials don't sell beer, they sell sex. The goal is to stir up fleshly desires, to stir up passion. Have you ever gone fishing? Every lure hides a hook.
James 1:12-15 tells us, "Blessed is _____ if he/she endures temptation, for when he/she has been approved, _____ will receive the crown of life, which the Lord promised to those who love Him. _____ should not say when he/she is tempted, 'I am tempted by God,' for God can't be tempted by evil, and He Himself tempts no one. But _____ is tempted, when he/she is drawn away by his/her own lust, and enticed. Then the lust, when it has conceived, bears sin; and the sin, when it is full grown, brings forth death."  Notice that it says we are drawn away by our own desires. Sorry, we can't even blame it on the devil. Temptation comes from what I have allowed in my life; the decisions and choices that have shaped who I am. Satan has no legal right or authority to mess with my life unless I open a door for him.
1Peter 5:8 (NKJV) warns, "Be sober, be vigilant; because your adversary the devil walks about like a roaring lion, seeking whom he may devour." This implies that he can't devour just anybody. He is out there roaring trying to impress and scare us but he is also looking for an open door. Ever had the situation where you comment, "Why do we have all these flies in here?" as you swat at the little pests. "Oh, the kids left the door open." If we leave a door open for the devil, you can be sure he will come in. In Luke 4 Jesus is tempted by Satan. In the end, vs. 13 in The Message says, "The Devil retreated temporarily, lying in wait for another opportunity." Still today he is lying in wait.
There is the temptation to be complacent. "Hey, I'm a good Christian." Watch out. 1Cor 10:12 (NKJV) warns, "Therefore let him who thinks he stands take heed lest he fall." We all have those times where we think we can do it on our own, times we don't want God's help. "I'm going to do life my way." When that happens, God says, "Go ahead, I'll be here when you're ready." That is really what the Parable of the Prodigal Son (Luke 15) is all about. The younger son thinks he knows better than his father, but the father is there to welcome him back when, as NIV puts it, "he came to his senses."
When we hear a pastor talk about "the flesh" is he just referring to sexual sin? No, it is any area not submitted to God. Anywhere that we allow an un-renewed mind or still live in the old man we are open to temptation. Galatians 5:16 promises that if we walk in the Spirit, we won't fulfill the desires of the flesh. What am I feeding myself? If I feed the flesh, it gets stronger and stronger. Galatians 5:24-25 tells us to crucify the flesh. A dead person cannot be tempted.
Sin is a counterfeit that is never lasting. Sin is trying to meet my needs outside of God's will. It can only lead to bondage and destruction. James 1:15 says, "Sin, when it is full-grown, brings forth death." I liken it to a mousetrap. To the mouse, the color of the cheese is so attractive, the smell so inviting. Just a little taste will be so good… WHAP!
In over six years of jail ministry, the most frequent questions I get regard overcoming temptation. Let's look at some keys to fighting temptation:
Submit to God before resisting. James 4:7 (NIV) tells us, "Submit yourselves, then, to God. Resist the devil, and he will flee from you." If I am not first in submission I am trying to go against the devil on my own. Good luck! The good news is we can ask for God's help. Hebrews 4:16 (KJV) commands, "Let us therefore come boldly unto the throne of grace, that we may obtain mercy, and find grace to help in time of need." Our loving Father is not the judge ready to jump on us.  He won't be shocked.  Wherever we see "grace" we can read "empowerment" and it gives a richer meaning to the verse. "Come boldly before the throne of empowerment". That is the empowerment to overcome temptation and live in God's power. James 1:17 (NIV) promises, "Every good and perfect gift is from above, coming down from the Father of the heavenly lights, who does not change like shifting shadows."
Find the source, the root, the trigger. I call it the pothole, that thing or situation that trips you up. What might be the opportune time for the devil? Failures, rejection, frustration, pride, stress, finances, loneliness? A few years ago I had the opportunity to speak with Darryl Strawberry. He was an 8-time MLB All Star, 4-time World Series champion yet he ended up $3 million in debt and in prison. Here is what he said to me, "I went from hero to zero. I had all the money, all the stuff but I was still asking, 'Who am I?' Despite all the success that the world saw, there was no happiness, no freedom. I was hurting inside, but covering it up with drugs. Here is my message: Drugs are not the problem; they are used to mask the problem. Find the root. What triggers you to run to the drugs or alcohol? Don't be focused on the drugs but be focused on changing behavior, changing environment, changing the pattern and focus of your life, establishing accountability." That naturally leads us to…
Establish accountability. If I am really serious about making a change, I must establish accountability. If not, I am just playing a game.  When I find myself stuck in a repeating cycle of good intention-failure-guilt, I will not get better on my own! I need someone who will pray for me, encourage me, and hold me accountable. Ecclesiastes 4:9-10 tells us, "Two are better than one, because they have a good reward for their labor. For if they fall, the one will lift up his/her fellow; but woe to _____ if he/she is alone when he/she falls, and doesn't have another to lift him/her up."
Consider the consequences. Imagine your spouse or teenage son coming in and announcing "Good news! The airbag worked perfectly." "Oh, that's good…What?" As the late Paul Harvey would say "And now for the rest of the story." The devil never tells us "the rest of the story." When have you seen a beer commercial showing a guy puking in the gutter? Or a smoking commercial of a woman in the last stages of emphysema? Or a credit card commercial showing a family struggling to pay their bills at the end of the month? Maybe you can think of other examples. Galatians 6:7 warns, "Don't be deceived, _____. God is not mocked, for whatever ____ sows, that he/she will also reap."
Change focus. Change the channel. The goal of commercials is to capture our focus. The battle against sin is won or lost in the mind. Ignoring a temptation is far more effective than fighting it. Rick Warren says, "Once your mind is on something else, the temptation loses its power. So when temptation calls you on the phone, don't argue with it, just hang up!" If my focus is, "Don't give in. Don't give in." what's going to happen? Most likely I'll give in. If my focus instead is, "I am righteous in Christ. I can do all things through Him who strengthens me. God is on my side. Nothing can separate me from God's love" then I can live in victory. Colossians 3:2-3 "_____ is to set his/her mind on the things that are above, not on the things that are on the earth. For _____ died, and his/her life is hidden with Christ in God."
Don't go too close to the edge. I don't know how many times I have spoken to people who say they were doing so well and suddenly they fell. Further conversation reveals they were actually trying to see just how close they could get to the edge without falling over. The Bible tells us repeatedly to flee from sinful temptation (1Corinthians 6:18; 1Corinthians 10:14; 1Timothy 6:11; 2Timothy 2:22). Don't flirt with it, don't play with it, run! Ephesians 4:27 tells us to give no place to the devil. If drunkenness is a problem, stay out of the bar. If plagued with sexual fantasies, stay out of R rated movies and pornographic internet sites. If the struggle is anger and bitterness, consider what music and TV you are allowing in. Psalms 119:3 (NLT) is a good verse to meditate on: "They do not compromise with evil, and they walk only in His paths." And also Proverbs 14:16 (NLT): "The wise are cautious and avoid danger; fools plunge ahead with reckless confidence." That reckless confidence causes them to plunge right over the edge.
Finally, resist the Tempter with the Word. That's how Jesus did it in Luke 4. "It is written." Bottom line, I must know who I am in Christ. I am loved. I am forgiven. I am victorious. I am chosen. What verses are in your arsenal?