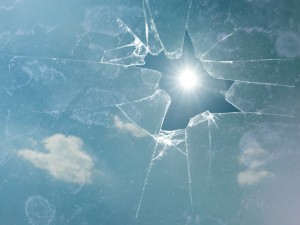 I recently rented the movie Divergent. It takes place in Chicago sometime in the future. The world has been devastated by war. To keep from falling into chaos society has been structured along strict class lines: farmers, factory workers, intellectuals, government officials, warriors. Each youth upon coming of age must declare for a specific class and then go through training. The heroine in the story declares for warriors. Part of her training is to enter a drug induced series of hallucinations where she must face her worst fears. She finds herself in a glass chamber which is filling up with water. (See the clip at https://youtu.be/X70hGbGc2ZM) She pushes against the glass. She kicks and beats on it without success. Finally the chamber is full. She is drowning without hope and suddenly she realizes, "This isn't real." Repeating "This isn't real", she taps on the glass with her finger. It cracks. As she continues tapping it breaks and collapses, releasing her.
In your Christian walk, have you ever been going along pretty good and suddenly: Wham! You hit a glass wall. Something from your past is stopping you from going forward. Grief can be like that. 15 years ago our son and his fiancé were killed by a drunk driver going the wrong way on the Interstate at 2:00 in the morning. Recently we were driving home from Seattle, a 3 hour drive from 11:00 PM to 2:00 AM. My wife was asleep and I was left alone with my thoughts. I found myself studying every pair of lights that came at me to be sure they were on the right side of the highway. I was reliving all of the feelings and memories of that tragedy. Forgiveness is a choice I make to put something behind me, but sometimes a word, a picture, even a sound can trigger a memory and the hurt comes back. Then it is time to choose not to go back there. For me another area is pornography. That material was common in my home growing up and set a hook in a young boy's mind. It is not nearly as strong now but still a book passage, a TV ad, a movie image will try to pull me back. For many smoking can be that wall. The physical need may be broken but the mental bondage is still there pulling them back over and over.
2Corinthians 10:4 (NIV) promises, "The weapons we fight with are not the weapons of the world. On the contrary, they have divine power to demolish strongholds." The prison of the mind is self-created. In god we have the weapons we need to break out of that prison. "This isn't real."
I could get my dream job but with the wrong thinking it will be a disaster. I could marry my dream girl (and I did) but with the wrong thinking it will be misery. Matthew 12:33 warns us to make the tree good and the fruit will be good. Look at the root rather than the fruit. If my heart is broken, weak, confused, the fruit of my life will be bad. "Why does bad stuff keep happening to me?" Maybe it is the fruit of what is inside. Change the root and change the fruit. Change the thinking and change the outcome. If I change everything changes. I like the promise from Leviticus 26:13 (NLT), "I broke the yoke of slavery from your neck so you can walk with your heads held high."
Romans 12:2 commands me to be transformed by the renewal of my mind. The battle is in my mind. The more I change my mind for the better, the more my life will also change for the better. The devil wants my thoughts. Why? Thoughts product actions, actions develop habits, habits determine character, character establishes destiny. Romans 8:6 (NLT) tells us, "So letting your sinful nature control your mind leads to death. But letting the Spirit control your mind leads to life and peace."
Stuff happens. Events occur in our life and we create a story to explain them. Being the oldest child is an event; feeling responsible for others in the family is the story. Abused is an event; seeing myself as unworthy or unwanted is the story created to explain it. The death of loved one may be seen as abandonment. The good news is I made up the story; I can change the story. The bad news is I tend to look for more evidence that I was right in my story.
D. L. Moody, a famous evangelist of the late 1800's said, "I have never met a man who gave me more trouble than myself." I will talk to a lot of people today but the most important person I will talk to today is me. What am I saying?
Repetition changes subconscious thinking. The key to change is to stick with it until the instinctive reaction changes. I drop a dish: "Oh, sh**." I make a wrong turn: "What an idiot!" That is instinctive reaction. I will only change that instinctive reaction through repetition of truth.
There will always be resistance between me and breakthrough. It is easier to go back to where I am comfortable. The Israelite nation was delivered from slavery in Egypt by great miracles, yet they repeatedly complained about how good they had it in the "good ol' days". Well, let me tell you about the "good ol' days." They weren't that great. I know because I was there and I would much rather be here.
Philippians 3:13 (NIV) tells us we should be, "Forgetting what is behind and straining toward what is ahead." In other words, don't be looking at behinds. The past never sees the future. If I keep speaking my past I have not forgotten it.
Old habits will not see me through a crisis. As forces increase on the outside, I need to increase the force on the inside. Crisis is the opportunity to grow, to excel, to shine. Think about it: If David had not faced Goliath he would have remained a shepherd.
In Luke 7:36-38, when the prostitute broke the jar of perfume, that represented her earnings from her profession. Breaking the jar represented her break from her past, turned it into worship. I will not leave the presence of Jesus the same. In the presence of Jesus is the power to break the bottle of my past. Religious people will see my worth based on my past performance. Jesus sees my worth based on future potential.
If I didn't drop nothin' when I met Jesus, I didn't get nothin'. Still got your stash of weed? Still got the numbers of your suppliers? Still got a condom in your wallet? What do you need to drop? John 8:36 promises, "So if the Son sets you free, you will be free indeed." It's time to experience that freedom through new thinking.
There is power for transformation in the Word. I was taught to have a Scripture verse for each finger. When someone flips me off I will know what verse goes with that. Individually a finger is weak but all together they have a special strength.
What is that wall for you? Smoking or alcohol? Meth or cocaine or prescription drugs? Pornography or adultery or fornication? Anger, pride, unforgiveness, jealousy? There is no shortage of areas where we can hit that wall. Let me help you get started. You need your own Scripture verses for the wall you face, but let me give you a starter kit. Stand up. Picture that glass wall in front of you. (Whoa, are you still sitting down? What's with that? Let's get with the program.) Here we go:
Hold up your right thumb: "I am the righteousness of God in Christ." (2Cor 5:21)
Hold up your pointer: "Forgetting those things that are behind I press toward the goal of the upward call of God in Christ Jesus." (Phil 3:14)
Hold up your middle finger (carefully): "There is therefore no condemnation for those who are in Christ." (Rom 8:1)
Hold up your ring finger: "I am a new creation in Christ." (2Cor 5:17)
Hold up your pinkie: "Nothing can separate me from the love of God that is in Christ Jesus." (Rom 8:39)
Put your left hand on the glass wall.
"This isn't real. Greater is He who is in me than he who is in the world. (1John 4:4) By the power of God's Word."
Now make a fist. POW!!