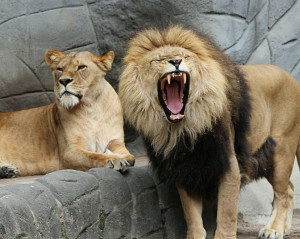 Do I believe everything I read in the paper or see on TV? Do I believe what I read in the Bible? So why do I spend more time reading what I don't believe than what I do believe? "But the one who peers into the perfect law of liberty and fixes his attention there, and does not become a forgetful listener but one who lives it out – he will be blessed in what he does." (James 1:25 NET) I want to fill my mind with the word of God.
When negative thoughts outweigh positive thoughts it's called depression. Where do negative thoughts come from? Most of them come from within my mind: "I'm no good. I'm a failure. I'll never change." I talk to myself all the time. I am my own biggest critic.  In addition, I have all of the negative from the world. TV: bad news. Radio: bad news. Talk to your buddies: bad news. Where is the scale tipping? "Then you will know the truth, and the truth will set you free." (John 8:32 NIV) Freedom does not come from my own thoughts or from the world. The truth of God's Word brings freedom.
A thought is an electrical impulse flowing through my brain.  If I think a thought often enough and it forms a rut in my brain. It is called being stuck in a rut. Romans 12:2 NKJV tells us not to get stuck in the world's rut but "be transformed by the renewal of your mind." Psalm 40:2 NLT promises, "He lifted me out of the pit of despair, out of the mud and the mire. He set my feet on solid ground and steadied me as I walked along." The Lord is with me. God is on my side. He is my rock and my salvation. Right thinking tips the scales from depression to blah and ultimately to joy.
Our life is determined by what is called the Law of Dominant Image. Whatever I focus on attracts and pulls me toward it. When I entered college, I had the image of becoming an engineer, so I took courses in basket weaving. No, engineering! I had the image of being married to this one girl. That image dominated my thinking, my dreams, my actions until I could see that image become a reality. I took her to the movies. I bought her flowers. I wrote letters. (That was before email.) All in pursuit of that dominant image. 49 years later she is still the dominant image in my life.
Race car drivers are trained when approaching a wreck to not focus on the wreck but on where they want their car to go. Why? Where I focus will draw me toward it. I need to change my focus from bad things to good things. I might be trying to resist looking at a pornographic magazine. "I'm not going to pick up that magazine; I'm not going to pick up that magazine. Oooh, isn't she somethin'." When I am on a diet I focus on food more than usual and the result is I want to eat.
I am not already as God wants me to be. Who is? Paul puts it this way in Phillipians 3:12 (NLT): "I don't mean to say that I have already achieved these things or that I have already reached perfection. But I press on to possess that perfection for which Christ Jesus first possessed me." I choose not focus on what has happened but rather on what I want to see happen. No matter how long I focus on the past it will not change. To change my thinking I must focus on the future.
"I wish I hadn't…" That focus keeps me in a rut and stuck in the past. If I am imprisoned by my past, my future is the victim. I must focus my mind on my goal, what I want to achieve. Change doesn't happen by accident, it is my choice. If I wait around for God to change me, I will just stay the same: the same habits, the same failings, the same consequences. I must cooperate with God in that change.
This is not positive thinking or simple optimism. That can be a denial of reality. Hope acknowledges my situation is bad but still I trust in God. David exemplified this in the 23rd Psalm, verse 4: "Yea, though I walk through the valley of the shadow of death, I will fear no evil; For You are with me; Your rod and Your staff, they comfort me." (NKJV)
My desire to change must become stronger than my desire to stay where I am. Two things are needed: vision and action. I must see where I want to go and then consciously move toward it. Vision without action is wishful thinking. Action without vision is chaos, going in every direction without purpose or progress.
First let's look at vision. My life will be pulled not in the direction of my desires or intentions but in the direction of the dominant image I allow in my thoughts. Is the dominant image in my mind one that pulls me back to the past or one that takes me forward into my future? Vision is needed before change. God gave Abraham images of stars of the sky and sand of the seashore show he could visualize his children rather than focusing on his being old and childless.
For many years an island just a half mile from Nassau, Bahamas was called Hog Island, an area limited to wild hogs and a garbage dump for the city. In 1959, investors purchased the island and renamed it Paradise Island. Today it is some of the most expensive real estate in the world with the Atlantis Hotel and other high end resorts. Bottom line: I treat something as I see it. An elephant is 80 times bigger than a lion but what does a lion see when he looks at an elephant – Lunch. Dominant image!
I formed the rut in my thinking by repetition, I will break out of that rut by repetition. If I repeatedly hear negative I will go in that direction. The Israelite army had listened to Goliath for 40 days. David came in and focused on the rewards. If I look at a problem too long it looks insurmountable. I won't focus on debt but where I want to go. I won't focus on cigarettes or addiction or pornography or dieting. I can change the image before me.
Our son and his fiancé were driving from North Dakota to Washington State. At 3:00 in the morning on the interstate in Montana he approached a curve and went to past a slow moving truck. He was hit head on by a drunk driver going eastbound in the westbound lanes. No one survived. For many weeks after Paul's death I battled a stronghold every time I got behind the wheel of a car. I found myself looking way ahead to spot the car coming on the wrong side. If I had to pass a truck, my knuckles went white from the tight grip on the wheel. Driving at night was an ordeal. I had to make the decision to change the thinking, change the vision. I went to Psalm 91: 1-4 (NKJV) to renew my thoughts:
He who dwells in the secret place of the Most High
Shall abide under the shadow of the Almighty.
I will say of the Lord, "He is my refuge and my fortress;
My God, in Him I will trust."
Surely He shall deliver you from the snare of the fowler
And from the perilous pestilence.
He shall cover you with His feathers,
And under His wings you shall take refuge;
His truth shall be your shield and buckler.
If I bring the old thinking into the new opportunity, that stronghold will dominate the conditions, stifle the progress that is possible and ultimately pull me back to the old life. I need to examine the thoughts. Does this help me at my new level or does it pull me back? "I'm a failure." Get rid of it! "I'm not good enough." That doesn't belong to me. "God is on my side." That's more like it. "I am victorious." That's what I'm takin' about!
The lion is called the king of the jungle. We go to see him in the zoo. To us it is entertainment. To him it is forced captivity. What does he do? He paces back and forth, back and forth. He senses that he was meant for something greater. Even if he was born in captivity that sense is not squelched. It is time I rise up to the person God has called me to be. Everything in that lion's life may contradict his kingship but it doesn't change his true identity. Am I locked in a cage the devil has trapped me in, built bar by bar from the poor choices and sins of my past? Am I going to just make do in the cage? Not me! I am going to rise up with a mighty roar. I will no longer settle for the way my life has been. "Greater is He who is in you than he who is in the world." (1John 4:4 KJV)
I can decide to break out of the cage where the enemy has entrapped me. Blind Bartimaeus threw aside his beggar's coat (Mark 10:46-52) because he had a new vision. That coat was his license to beg, but he threw it aside because he had a new vision. He did not yet have sight but he had vision. I must throw off that which makes up the bars for the cage of old vision and move toward the freedom of the new vision. Philippians 3:13-14 (NKJV) says, "Brethren, I do not count myself to have apprehended; but one thing I do, forgetting those things which are behind and reaching forward to those things which are ahead, I press toward the goal for the prize of the upward call of God in Christ Jesus."
The devil goes about like a roaring lion to bring fear and intimidation, but there is another lion described in the Bible: the Lion of the tribe of Judah, Jesus who comes to bring life and peace. What is our response to the devil? Submit to God, to the truth and power of His Word. Then we are empowered to resist the enemy, to roar right back even louder. It is time to roar!